Skip to content
Skip to navigation menu
nova si 400ep

Sliding table saw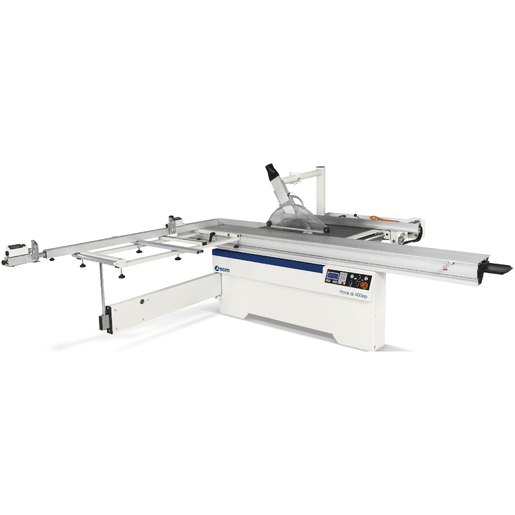 Starting from $26,695.00
(Price does not include taxes, shipping and installation)
Superior technology combined with an ease of use
Saw unit: a perfect cut. Maximum torsional rigidity and the total absence of vibration through the closed loop structure of the saw unit which ensures perfect alignment of the blades during tilted and difficult cuts.
Sliding carriage: smooth sliding and a solid work surface. The wide section of the carriage, with closed reticular geometry provides extreme rigidity and minimum deflection. A smooth operating motion is guaranteed over time by the system of sliding bearings running on hardened steel guides using an  exclusive method of mechanical fixing.
READY: the practical advantage for automatic control of the main positions. The programming of the work becomes simple and effective with the electronic control with a 4" LCD colour screen.
Manual adjustment of the scoring unit: simple and effective. Vertical and horizontal adjustments are carried out by user-friendly mechanical levers that operate directly making precise and smooth movements. The useful mechanical stops allows immediately finding of the set position. The positioning of the controls allows their use without moving from the front of the machine.
TECHNICAL DATA
Max. saw blade diameter with mounted scorer
mm
400 / 16
Maximum saw blade projection from table to 90°/45°
mm / inches
140/97 5.5/3.8
Cutting width on rip fence (Rip capacity)
mm / inches
1270 / 50
Max. squaring stroke of sliding table saw
mm / inches
3200 / 126
Three-phase motor
Hp
15
Indipendent scoring motor
Hp
1
Blade tilt
degrees
0 - 45
You might also be interested in...
Are you looking for different performance? Explore our range: