Skip to content
Skip to navigation menu
gabbiani p 60

Automatic single-blade beam saw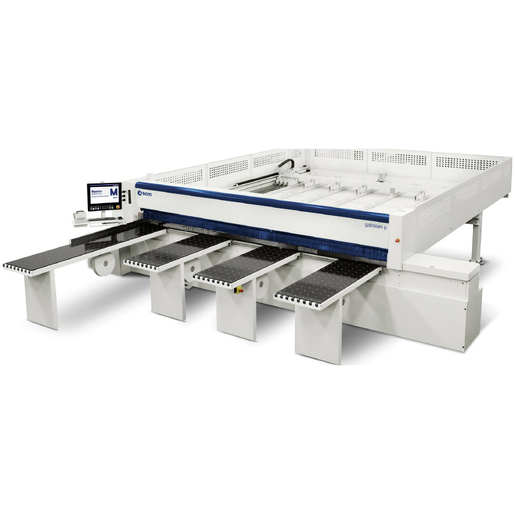 Starting from $90,000.00
(Price does not include taxes, shipping and installation)
Ideal solution for small-sized companies.
Single-blade beam saw controlled by PC/PLC control system, designed to cut solid wood panels or panel stacks and its products (chipboards, MDF panels, multilayer panels, plywood panels and fiber panels). The solution to integrate the beam saw inside a flexstore el storage.

Selectable air blowing table: an essential tool.
The possibility to enable/disable the air blowing device on each table section via independent motors, ensuring optimal sliding of the panels only where it is needed and avoids accidental falling of cut panels temporarily stored on the tables.

Floating clamps: the guarantee of the end result.
The special shape of the clamps allows safe grip of panels at the maximum speed and perfect parallelism even when panels are not perfectly planar.

FLEXCUT unit: incomparable flexibility and productivity.
Increasing of productivity up to 30% and space saving up to 20% owing to the simultaneous execution of both rip and cross cuts.
TECHNICAL DATA
Cutting length
mm
3300/3800/4300
Blade projection
mm
60
Saw carriage variable speed (option)
m/min
6 - 60 (0 - 120)
Pusher variable speed (option)
m/min
0 - 60 (0 - 70)
Main blade motor S6 - 40% (option)
kW
7 (9)
Scoring unit blade motor 50 Hz (option)
kW
1,5
Main blade / scorer speed 50 Hz
rpm
4650/5850
Main blade / scorer blade diameter
mm
300/200
Number of clamps
std
5
You might also be interested in...