Skip to content
Skip to navigation menu
L'invincibile si x

Sliding table saw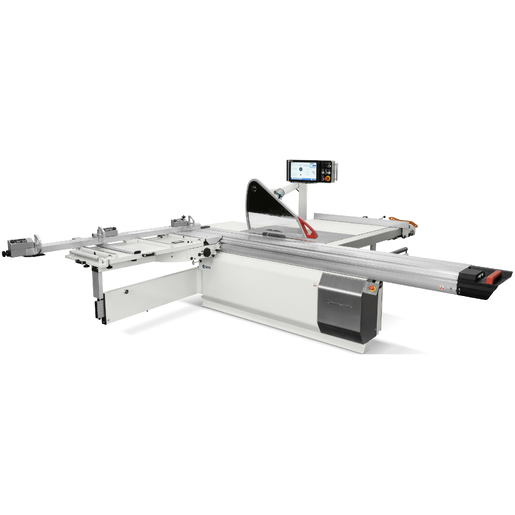 Starting from $68,795.00
(Price does not include taxes, shipping and installation)
The advantages of an exclusive choice.
Buying a "L'invincibile six" machine means you get a customized solution, thanks to experience, technical research and Italian creativity.
Console eye-S main functions:
connectivity among machines belonging to the same company network and 4.0 Industry preset
sharing of work programs and tools database
activity monitoring and reporting on the use of the machine
connectivity with SCM Thundercut (optimizer/sequencer App)
self-diagnosis, tele-service and link to troubleshooting
Double blade tilting: maximum height without compromise. The exclusive Scm solution capable of simultaneously use a 550mm saw blade and 160mm scoring blade, for both 90 ° and ± 46 ° inclined cuts, providing the best performance on veneered panels and solid wood components.
Sliding carriage: maximum cut quality guaranteed over time. The carriage will never require adjustment due to its structure with arch-ground steel slideways (developped by Scm).

eye-S console: the pleasure of controlling all machine functions from the control panel. The new control panel, with its attractive design, allows easy and intuitive machine programming, combining the 15" colour touch-screen display and the Maestro active user interface.

Full support: user friendly and precise mechanical components. It provides maximum support for the panel for any angle due to the exclusive SCM patented solutions consisting of a single centre of rotation for maximum reliability over time. The electronic control updates in real-time the data for the positions of the three wireless LCD stops on the "Quick Lock" fence.
TECHNICAL DATA
Max. saw blade diameter with mounted scorer
mm / inches
550 / 22
Sawblade arbor size
mm
30
Maximum saw blade projection from table to 90°/+46°/-46°
mm / inches
200/130/105 7.8/5.1/4.1
Cutting width on rip fence (Rip capacity)
mm / inches
1500 / 59
Max. squaring stroke of sliding table saw
mm
3200 / 126
Three-phase motor
Hp
15
Indipendent scoring motor
Hp
1
You might also be interested in...
Are you looking for different performance? Explore our range: