Skip to content
Skip to navigation menu
morbidelli cx210

Compact and smart CNC drilling centre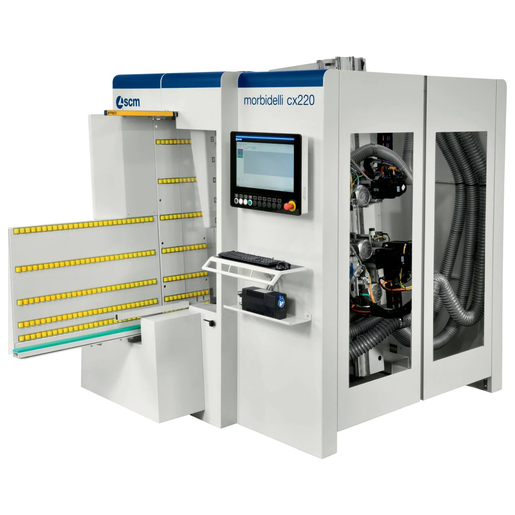 The best solution for batch-1 processes.
Compact and smart CNC drilling centres, perfect to grant drilling on 5 sides of the panel, grooving and routing operations. No manual invervention on the machine between two operations allowing uninterrupted machining cycle.
Also available with automated panel return conveyor for a continuous cycle production.

CYCLE TIME OPTIMIZATION: SHAPED CLAMPS
Reduced cycle time and no repositioning: the new clamps' design allows drilling and routing operations even on the inside of the clamping area.

+70% OF PRODUCTIVITY: TWO DRILLING HEADS
morbidelli cx220 machining time is considerably reduced: two drilling heads with independent Y and Z axes, automatically program-managed, can machine on a panel at the same time.

THE PERFECT DRILLING: RO.AX SPINDLE
Zero play during machining with the new RO.AX technology (Rotoaxial spindle technology),
the most efficient spindle on the market with rotation speeds up to 8000 rpm. The sturdiness of drilling heads is proven by the reduced maintenance costs: five times less than that imposed by the majority of other machine manufacturers.

PERFECT SURFACES: NEW WORK TABLE
?No scratching thanks to the new properly designed work table,
the best solution for machining of lacquered and delicate panels.
TECHNICAL FEATURES
Axes
Panel length (max.)
mm
3050
Panel width (max.)
mm
1300
Panel thickness (max.)
mm
95
Panel weight (max.)
kg
70
X-Y-Z axes speed (max.)
m/min
70 - 40 - 30
F31LTC drilling head
Vertical spindles
no.
21
Horizonal spindles in X - Y directions
no.
6 - 4
Spindles rotation speed
rpm
up to 8000 with optional inverter
Integrated blade in X axis
Ø mm
rpm
125
up to 9700 with optional inverter
Motor power
kW (Hp)
2,2 (3)
0-90° saw-blade/clamex unit
Diameter
mm
125
Rotation speed
rpm
5500
Electrospindle
Motor power (max.)
kW
7,5
Rotation speed
rpm
up to 24000
Dowel insertion unit
Supply system
water/vinyl glue
Available tools on tool changer
no.
6
You might also be interested in...
Are you looking for different performance? Explore our range: