Skip to content
Skip to navigation menu
nova f 410

Surface planer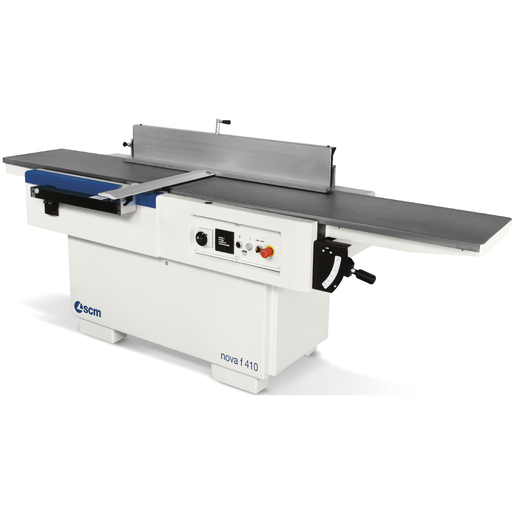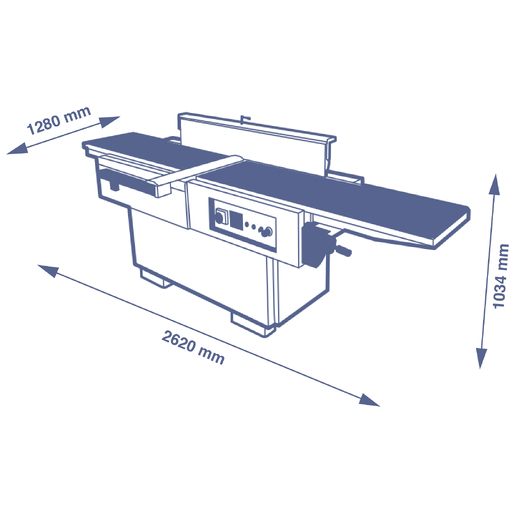 $12,500.00
10% back to work
5% online discount
(Price does not include taxes, shipping and installation)
The nova f 410 is a jointer machine whose accuracy lasts a lifetime and without noise with the system on connecting rods.
The system guarantees the maximum movement fluidity and avoids deformations of the work table. This guarantees maximum stability, reliability and ergonomics. This is not the only feature loved by woodworkers. The total absence of vibration thanks to the large worktables made from ribbed cast-iron guarantee precision and a very good quality of the results on the processed workpieces.

The movement of the infeed table by means of a parallelogram kinetic mechanism always gives the same distance between the cutterblock and the table assuring constant planarity over time.

High rigid fence with a smooth movement thanks to the central locking on round bar. The graduated scale facilitates the operator in positioning the guide to the required tilting.

Total absence of vibration thanks to the large worktables made from ribbed cast-iron.

The "Xylent" spiralknives cutter block gives an exceptional finish with reduced noise during machining thus to provide a more comfortable working environment.
The "Xylent" cutter block also improves the dust extraction due to the production of very small chips
Each cutter of the "Xylent" block has 4 tips which can be rotated into the cutting position when worn, therefore increasing the knives production life before they require replacement
MACHINE CONFIGURATION
(Options and accessories included with this machine)
"Xylent" spiralknife cutterblock with 3 series of knife
10 spare inserts kit (15x15x2,5) for Xylent spindle
TECHNICAL FEATURES

Working width

mm (in)

410 (16.12")

Total length of worktables
mm (in)
2610 (102.75")
Infeed table length
mm (in)
1450 (57.06")
Outfeed table length
mm (in)
1160 (45.69")
Cutterblock diameter
mm (in)
120 (4.75")
Cutterblock speed
rpm
5000
Aluminium surface fence
mm (in)
1200 x 190 (4.75 x 3.56")
Max. stock removal
mm (in)
8 (0.31")
Other technical features:
Three-phase motor
6kW (8hp) 60Hz
Exhaust outlets diameter
mm (in)
120 (4.75")
MINIMUM INSTALLATION REQUIREMENTS
Power absorption
[A]
24
Voltage frequency
230V 60Hz
You might also be interested in...
Are you looking for different performance? Explore our range: