Skip to content
Skip to navigation menu
nova s 520

Thicknessing planer - Xylent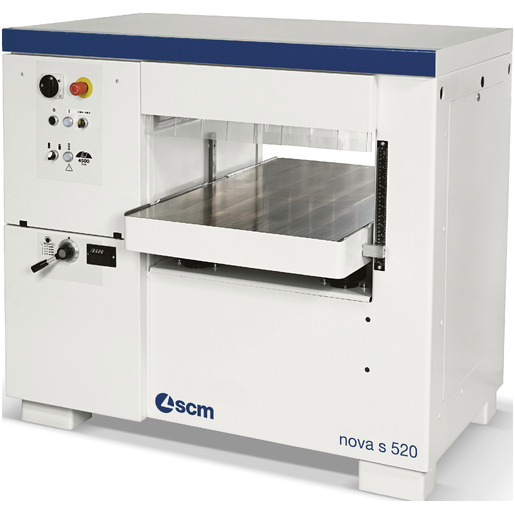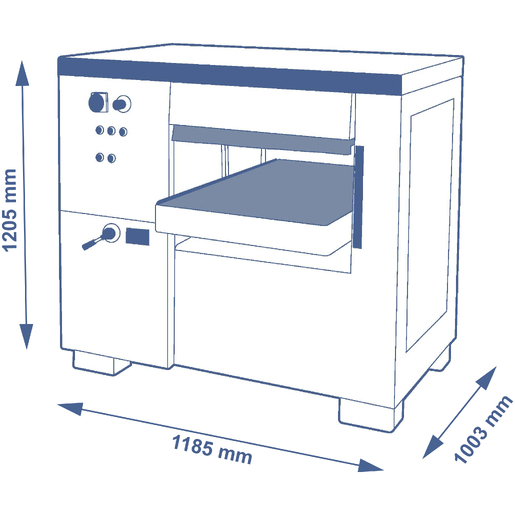 $16,500.00
10% back to work
5% online discount
(Price does not include taxes, shipping and installation)
The nova s 520 thicknessing planer has several features, one of the most important is the worktable stability, ensured by 4 screws with a large diameter combined with the 2 side linear guides. Another great feature is the rollers interchangeability. Perfect finishing obtained by quick and easy changeover of the rollers that allows the operator to configure the machine drive function in case of special requirements, such as a minimum removal of fine wood and/or batches where multiple pieces of different thicknesses are processed.

The stopping of the work piece and the presence of notches on its surface are eliminated due to the movement system on connecting rods of all the three feeding rollers that allows their vertical displacement by rotation so to have the best linear feeding.

The 4 dust protected screws with a large diameter combined with the 2 side linear guides ensure worktable sturdiness and stability, eliminating the necessity of  locking it in position and guaranteeing high precision and reliability over time.

Quick and easy changeover of the rollers thanks to their interchangeable system that allows the operator to configure the machine drive function in case of special requirements such as minimum removals of fine woods.
The "Xylent" spiralknives cutter block gives an exceptional finish with reduced noise during machining thus to provide a more comfortable working environment

Albero monoblocco con coltelli tipo "Tersa". Il sistema privo di viti di fissaggio rende estremamente rapida la sostituzione dei coltelli.

L'arresto del pezzo e la presenza di tacche sulla sua superficie sono scongiurati grazie al sistema di movimentazione su bielle di tutti i tre rulli, che ne consente lo spostamento verticale tramite rotazione, e l'eccellente linearità di traino
Le 4 viti antipolvere di grande diametro abbinate alle 2 guide lineari laterali assicurano robustezza e stabilità al piano di lavoro, eliminando la necessità di bloccarlo in posizione e garantendo elevata precisione e affidabilità nel tempo

Cambio rapido e semplice dei rulli grazie al loro sistema intercambiabile che consente all'operatore di configurare la macchina in caso di esigenze particolari come asportazioni minime di legni pregiati.
Perfect surfaces and high feeding performance thanks to the planer unit with a rubber outfeed roller
Powered worktable lifting with micrometric adjustment for the maximum convenience and precision
The "Xylent" cutter block also improves the dust extraction due to the production of very small chips
Each cutter of the "Xylent" block has 4 tips which can be rotated into the cutting position when worn, therefore increasing the knives production life before they require replacement
The sectioned steel infeed roller allows the simultaneous processing of different workpieces thicknesses giving great results even with minimum removal
The thicknessing table with idle rollers is very helpful with the feeding of moist and/or resinous wood. It is particularly suitable for heavy duty woodworking operations and with rough work-pieces
MACHINE CONFIGURATION
(Options and accessories included with this machine)
Worktable with 2 idle rollers
1st infeed sectioned steel feed roller
"Xylent" spiralknife cutterblock with 3 series of knife
10 spare inserts kit (15x15x2,5) for Xylent spindle
TECHNICAL FEATURES

Working width

mm (in)

520 (20.5")

Worktable dimension
mm (in)
530 x 900 (20.87 x 35.44")
Working height (min/max)
3,5/300 (0.12 x 11.81")
Max. stock removal
mm (in)
8 (0.31")
Minimum working length
mm (in)
220 (8.69")
Minimum working width
mm (in)
10 (0.37")
Cutterblock speed
rpm
4500
Cuterblock diameter
mm (in)
120 (4.75")
No. 4 knives
35x3x520 (1.37"x0.12"x20.5")
Feed speed
m/min
5-8-12-18
Other technical features:
Three-phase motor
8kW (11hp) 60Hz
Exhaust outlets diameter
150 (5.87")
MINIMUM INSTALLATION REQUIREMENTS
Power absorption
A
25
Voltage frequency
230V 60Hz
You might also be interested in...
Are you looking for different performance? Explore our range: