Skip to content
Skip to navigation menu
morbidelli m90

Machining center with 3-4 axes technology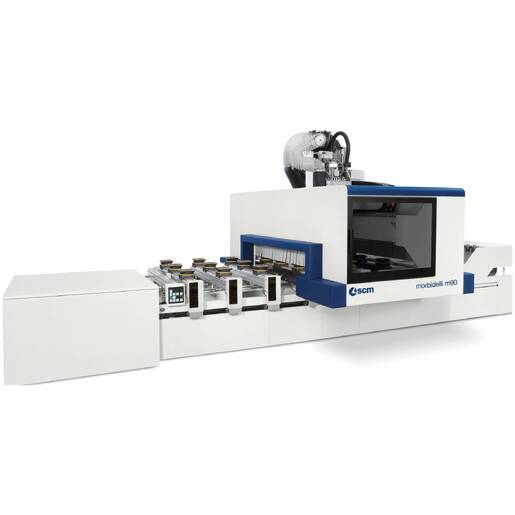 Starting from $113,900.00
(Price does not include taxes, shipping and installation)
The new machining center with 3-4 axes technology shares the technological know-how of the "morbidelli m" range offering an excellent quality/price ratio.
It stands out for a reduced footprint that allows to optimize the available space in the factory without compromising on productivity and machining quality.

SMALLER FOOTPRINT AND HIGH PERFORMANCE: COMPACT
6 meters total length with no side protections: technology at the TOP in a minimum space.

HIGH DRILLING CAPACITY: FASTER
Drilling cycle time saving up to 60% thanks to the large amount of drilling bits (RO.AX. technology) distributed on a layout suitable for any type of furniture construction.

UNIVERSAL AND POWERFUL: TOP QUALITY
Ability to set up the machine with routing units of different power rate according to any machining requirement and in case of heavy duty applications.
TECHNICAL DATA
Working areas
X-Y axes dimensions
mm
3115 x 1320
Y-axis panel clearance
mm
1600
Axes
Vectorial speed "Pro-Space"
m/min
56
Z-axis panel clearance
mm
180
Drilling unit
Independent vertical spindles (up to)
no.
21
Independent horizonal spindles (up to)
no.
10
Rotation speed (max.)
rpm
8000
Integrated blade in X, diameter
mm
125
Routing unit
Motor power (max.)
kW (hp)
14 (19)
Rotation speed (max.)
rpm
24000
Available tools on tool changers (up to)
places
25
You might also be interested in...
Are you looking for different performance? Explore our range: