Skip to content
Skip to navigation menu
dmc eurosystem

Automatic sanding and calibrating machines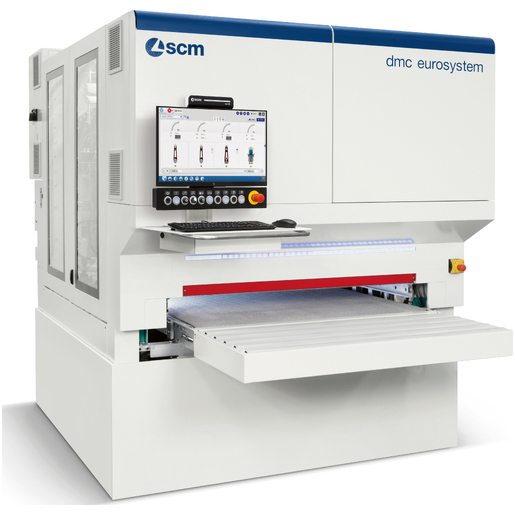 Excellent finishing results are obtained when machining raw and painted panels thanks to the wide range of units (Cross-Belt, Calibrating Roller, Sanding Roller, Super-Finisher) that come with the Eurosystem, and to its prescribed approach: a perfect combination of aggressive roller with sensitive EPICS electronic sectional pad.

DIGITAL READ-OUT: the device detects the working height of the roller and makes the reading of the value immediate and precise.

HIGH PERFORMANCE TRANSMISSION SYSTEM: the "POLI-V" belt ensures an extremely powerful, efficient and silent transmission; in addition, the automatic belt tensioning system guarantees that the tension remains constant over time.

HIGH-EFFICIENCY DUST SUCTION HOODS: expressly studied and designed by DMC engineers, allowing to control the dispersion of the dust even in the heaviest working conditions, thanks to their particular shape and position, very close to the working area.
TECHNICAL FEATURES
Working width
mm
1350
Min/max working thickness (mobile table)
mm
3-170
Min/max working thickness (constant pass-line)
mm
3-200
Abrasive belt width (roller unit)
mm
1370x2620
Abrasive belt length (roller unit)
mm
150x5000
Mat feed speed
m/min
3-18
You might also be interested in...