Skip to content
Skip to navigation menu
startech 27

Single head multiboring machine with 27 spindles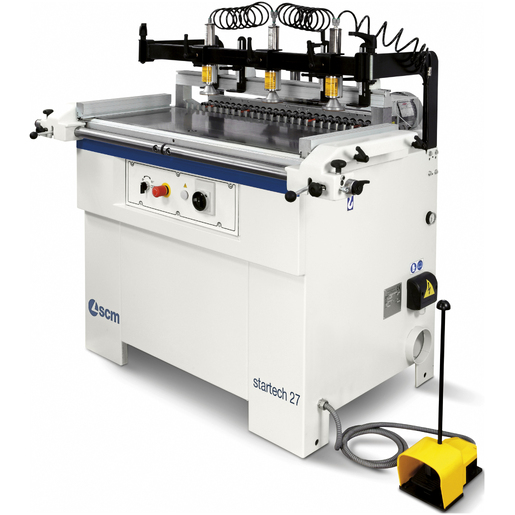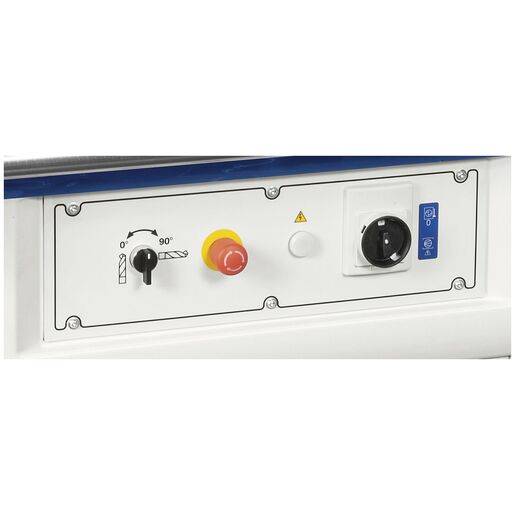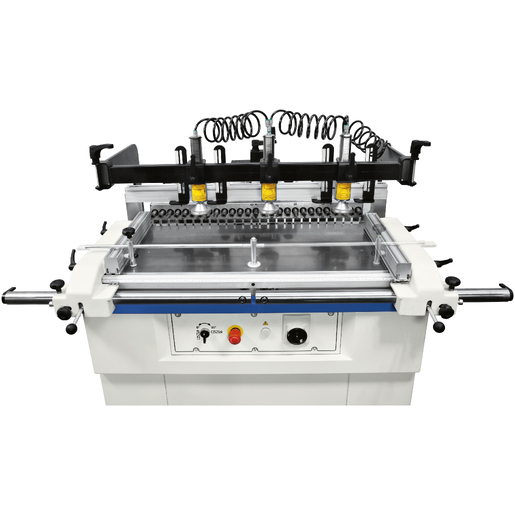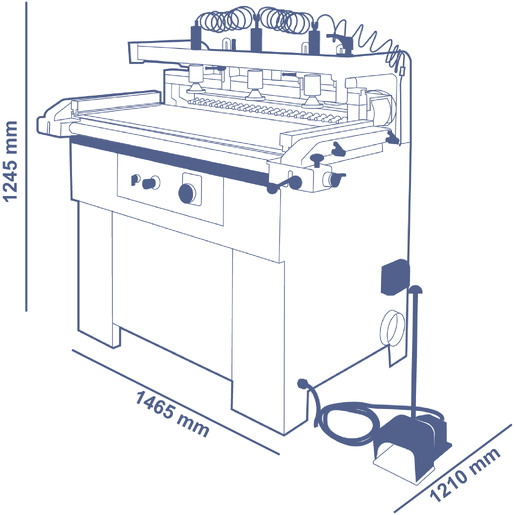 $12,836.84
(Price does not include taxes, shipping and installation)
Ideal solution to carry out horizontal, vertical and tilted drilling operations for wooden or similar materials machining. With a rich basic equipment, startech 27 is productive, flexible, reliable and precise over time, so much so that it can be defined as "the excellence in manual drilling".
It is equipped with horizontal/vertical automatic positioning of the drilling which can be activated from control panel.
The 27 quick-change chucks guarantee a very fast set-up, the bits can be replaced comfortably and in an instant.

Pneumatic drilling head rotation with 0-45-90° reference stop allowing an immediate changeover between operations.

Drilling depth adjustment from 0 to 60 mm by means of 5 positions revolver with device to automatically change the vertical/horizontal depth to avoid the chipping of the panel.

The drilling head is made from single-piece aluminum casting to guarantee absence of vibrations. The drilling unit running on two rectified cylindrical guides ensures stability and accuracy.
All controls are ergonomically positioned on the machine front, including the switch that pneumatically tilt the drilling head, allowing an immediate changeover between operations.
Highly robust cast iron guides with micrometric adjustment of the position and nonius decimal scale which ensures absolute precision. Possibility of the guides exclusion by overturning
For the perfect drilling even of large panels, the machine is equipped with a 3000 mm length lateral guide, millimeter and with reversible stops, quickly installable/removed.
Mechanical gauge that allows to quickly position the opposite guide to the one used without necessity of the metrical rule reading.
Servo-assisted drilling unit down stroke adjustment to prevent the bits from chipping particularly delicate panels
No. 3 upper pressure cylinders for the workpieces hold-down during machining to guarantee absolute precision
The drilling concept of startech 27 machine uses the outside of the panel (in sight) as a reference and thus any differences in thickness are always on the insdideof the cabinet (non in sight)
Guide for horizontal drilling at 45°, simple and effective
Easy-to-use device for working narrow work-pieces
| | | |
| --- | --- | --- |
| Main technical data | | |
| work table dimensions | mm (inch) | 1096 (43.12) x 407 (16) |
| work table height | mm (inch) | 900 (35.44) |
| number of spindles | | 27 |
| spindles inter-axis | mm (inch) | 32 (1.25) |
| max. tool diameter | mm (inch) | 40 (1.56) |
| max. drilling inter-axis | mm (inch) | 832 (32.31) |
| max. horizontal drilling height | mm (inch) | 60 (11.06) |
| spindle speed | rpm | 3360 |
| min./max. panel thickness | mm (inch) | 10 (0.37)/85 (3.31) |
| max. width under the "gantry structure" | mm (inch) | 1025 (40.31) |
| max. driling head stroke | mm (inch) | 70 (2.75) |
| drilling head motor power | kW (hp) | 2.2 (2) |
| exhaust hood diameter aat the base/on the drilling head | mm (inch) | 120 (4.62) /2x80 (3.12) |
| min. installation requirements | | |
| compressed air consumption | N1/cycle | 3.5 |
| extraction air consumption | M³/h (cfm) | 1455 (850) |
| exhaust air speed | m (feet)/sec | 20 (6.5) |
| USA version - Voltages / Frequency | | 230V/60Hz |