Skip to content
Skip to navigation menu
balestrini pico md

CNC tenoning mortising machine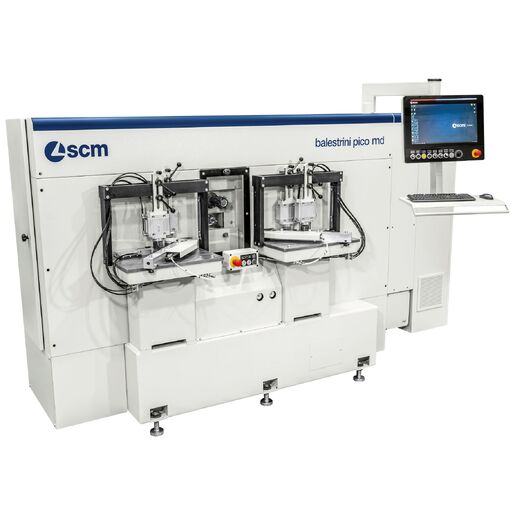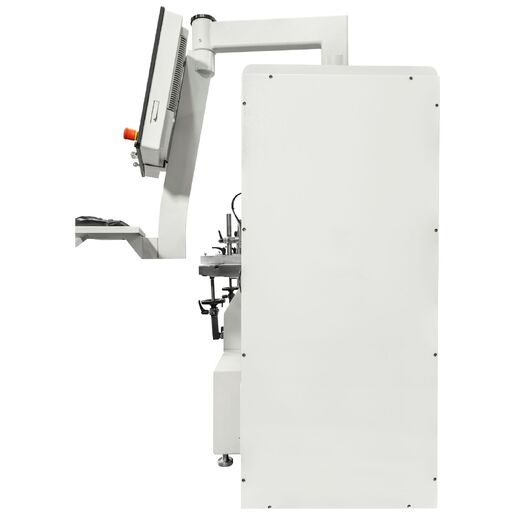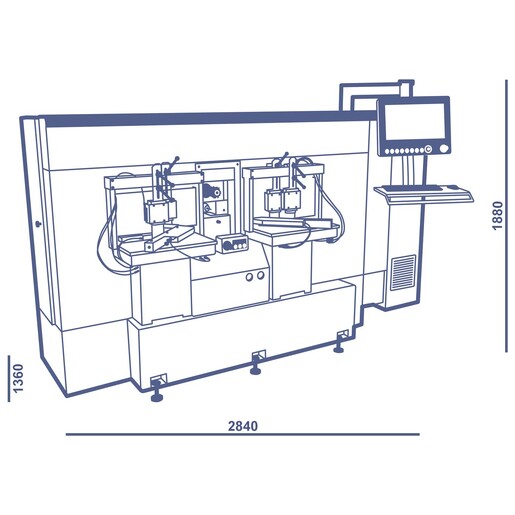 $70,244.00
5% online discount
(Price does not include taxes, shipping and installation)
balestrini pico md is a cnc machine that brings together tenoning and mortising functions in one product. It is ideal for producing Miter Door joints on frames and cabinet doors, in solid wood or paper wrapped MDF to be assembled without using dowels.
Thanks to "Infinity" work cycle that uses the interpolation of the two NC axes, it is possible to execute pendulum machining without cycle interruptions.
The 21,5" touch screen eye-M console, positioned on mobile support, allows to use the simple and intuitive Maestro active joint HMI.

N.2 front worktables equipped with work-piece reference fence, vertical clamping cylinder, horizontal clamping cylinder and front reference stop for execution of mortise/tenons on each table for maximum versatility. The dual clamping system provides accurate machining and a consistent 45° angle

Simplified programming with Maestro active joint software that allows to select numerous macros for Miter door joint, tenons, holes and multiple mortises programming in materials of different widths. Easily manage tool path for perfect joint quality

Specifically designed diamond tenon/milling tools and solid machine construction provide a high-quality finish on all material types.

The tenoning unit with 4,5 kW electro-spindle and 9,000-12,000 rpm rotation speed and dedicated mortising unit allows cycles with maximum productivity up to 50 frames per hour.
Drilling-mortising unit with 2 kW electro-spindle and 12,000-18,000 rpm rotation speed to perform all the complementary machining
N.1 drilling-mortising bit with 3/8" diameter (2.04" machining length and 4.33" total length)
Tool-holder shank with 25 mm diameter
Diamond tipped tenon/milling tools designed for solid wood and wrapped MDF
Movement of interpolated axes by Brushless motors for high accuracy and rapidity
NOTE: Tenoning cutter out of this scope of supply
MACHINE CONFIGURATION
(Options and accessories included with this machine)
Movement of interpolated axes by brushless motors
N°2 front worktables
Tenoning unit
Drilling/Mortising unit
Operator panel "eye-M"
Beckhoff Control Unit
Maestro Active Joint Human-Machine Interface software
Pre-set macros
Extraction outlets on machine bed
Emergency stop button
Toolholder shank diameter 25 mm
N°1 Drilling /mortising bit with diameter 3/8"
TECHNICAL FEATURES

Worktable

Dimensions of each table

mm (inches)

520 x 320 (20.47 x 12.59)

Longitudinal tilt

0° ÷ 45°

Work-piece cross-section max. (width x thickness)

With 45° cut

mm (inches)

102 x 30 (4.01 x 1.18)

With straight cut.

mm (inches)

150 x 30 (5.9 x 1.18)

Work-piece cross-section min. (width x thickness)

With 0° or 45° cut

mm (inches)

38 x 15 (1.49 x .59)

Work-piece length

Min. with straight cut

mm (inches)

120 (4,72)

Max.

mm (inches)

2500 (98.42)

Tenon dimensions with standard tool

Max. length

mm (inches)

150 (5.90)

Max. thickness

mm (inches)

30 (0.50)

Max. Depth

mm (inches)

25,4 (1)

Hole or mortise dimensions

Max. hole diameter

mm (inches)

16 (0.62)

Max. mortise length

mm (inches)

140 (5.51)

Max. mortise thickness

mm (inches)

5 ÷ 16 (0.19 ÷ 0.62)

Max. hole/mortise depth

mm (inches)

40 (1.57)

"Miter door" work cycle time

Min.

sec

18

Minimum installation requirement

Installed power

14 KVA - 21 A

Air consumption system machine

NL/min (CFM)

250 (9.0)

Suction air consumption, n. 1 Ø 100 mm

m3/h (CFM)

1 x 850 (500)

Suction air consumption, n. 2 Ø 150 mm

m3/h (CFM)

2 x 1900 (1,120)

Suction air speed

m/s (ft/sec)

25/30 (90)

USA Version – Voltage and Frequency

400EU / 50-60Hz