Skip to content
Skip to navigation menu
startech cn v

Universal NC drilling and grooving machine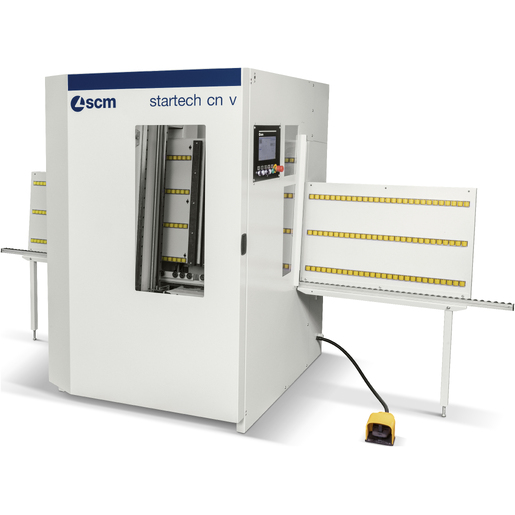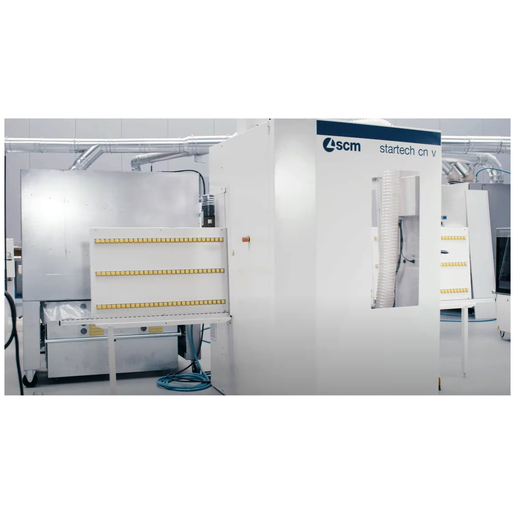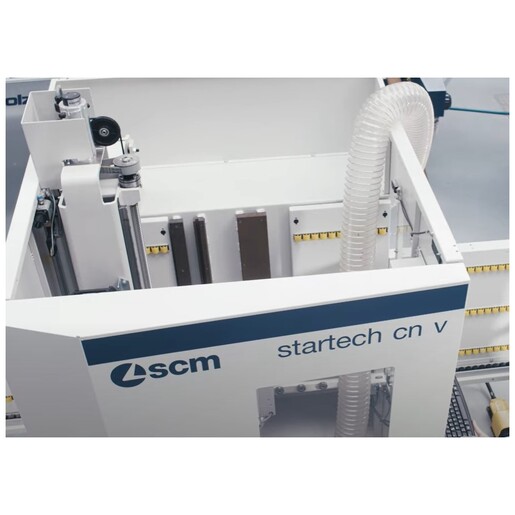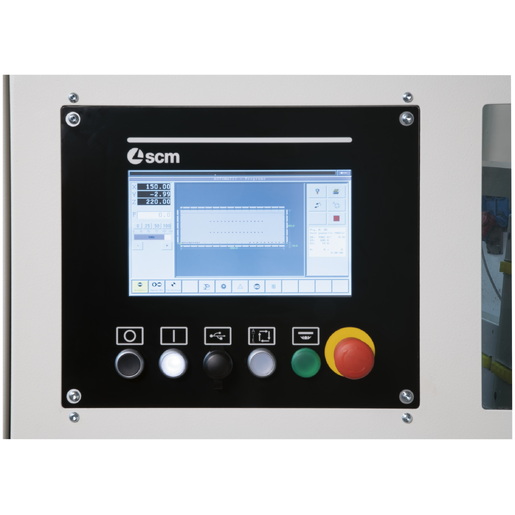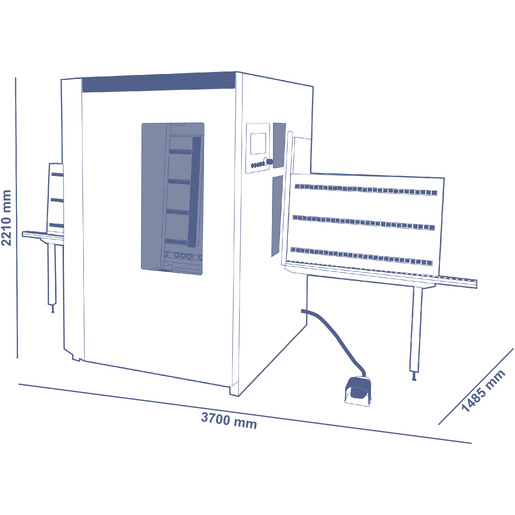 $38,731.58
10% back to work
5% online discount
(Price does not include taxes, shipping and installation)
startech cn v is the universal NC drilling and grooving machine for both small and medium carpentry dedicated to vertical drilling on the panel surface, horizontal drilling on all four sides and cutting with integrated blade in the "X" direction.
Equipped with patented drilling head with Ro.Ax technology, the " top" on the market which ensures greater precision, finish quality, drilling feed speed, productivity and drastic reduction in maintenance times (1000 hours non-stop).
Maximum freedom in processing different types of materials (MDF, chipboard, etc) and and also small-sized panels and maximum processing flexibility for "batch 1".
Added to Your Shopping Cart
Available 1
Item ready for delivery
Contact us
Installation service for STARTECHCNV
For this model the SCM installation is required.

Flexible and customized productions combined with speed and precision.

Maestro cnc is the software for the design of the work piece, to program SCM drilling centers. Large graphic previews of the work piece with its wood workings, of the machine and of the tools, together with immediate functions ensure the most comfortable use and best result.

RO.AX technology (Rotoaxial spindle technology), the most efficient spindle on the market with drastic reduction in maintenance times (1000 hours non-stop).
Drilling head positioned above the panel to guarantee accurate machining and thanks to the system that uses the outside of the panel (in sight) as a reference, any differences in thickness are always on the inside of the cabinet (non in sight).
Base and working table
Base made of tubular welded steel to create a large support surface, on which the work tables are fixed
Anti-scratch bakelite work table that does not require any adjustment as the grooved structure allows the head insertion in any working condition and ensures maximum piece stability
Drilling unit consisting of drilling head with 7 vertical spindles, 4 horizontal spindles and integrated blade
NC numerical control 10" LCD color display with touch-screen function - Side supports with rollers that guarantee the best support also of long work pieces.
Detecting system for calibrating of opposite panel side reference Device capable to read the panel dimension along X direction and automatically compensate errors on eventual panel size. This device grants a perfect joint between the panels even if the same are out of tolerance.
Device to increase the drilling pressure along Z axis; it is particularly useful when machining hard materials or large diameter holes
"Qwerty" keyboard type including the support positioned under the touch-screen control.
Automatic lubrication for an always optimal maintenance of machine efficiency
Cooling fans inside the electrical cabinet to maintain optimal machine performance
MACHINE CONFIGURATION
(Options and accessories included with this machine)
Cooling fans for electric cabinet
Detecting system for calibrating of opposite panel side reference
Device to increase the drilling pressure along Z axis
Automatic lubrication
Maestro cnc programming software
Keyboard type: Qwerty
TECHNICAL FEATURES
Axes:
Max. panel dimensions X-Y-Z
mm (in)
3000 (118) x 900 (35.43) x 50 (1.94)
Min. panel dimensions X-Y-Z
mm (in)
300 (11.81) x 90 (3.5) x 10 (0.43)
Max. speed X-Y axes
m (feet) / min
20 (6.5)
Drilling Head:
Vertical spindles
n.
7 (4X-4Y [4Y one of them is shared])
Vertical spindles (along Y axis)
n.
2 (1+1)
Horizontal spindles (along X axis)
n.
2 (1+1)
Fixed integrated blade (cutting direction)
X
Max. blade diameter
mm (in)
125 (4.88)
Max. blade thickness
mm (in)
6 (0.25)
Motor power
kW (hp)
2.6 (3.5)
Spindle speed
rpm
5352
Blade speed
rpm
6840
MINIMUM INSTALLATION REQUIREMENTS
Compressed air consumption
N1/cycle
90
Extraction air consumption
M³/h (cfm)
1628 (944)
Exhaust air speed
M (feet) /sec
20 (6.5)
Exhaust hood diameter
mm (in)
120 (4.62)
USA version - voltage/frequency
230V – 60HZ