Skip to content
Skip to navigation menu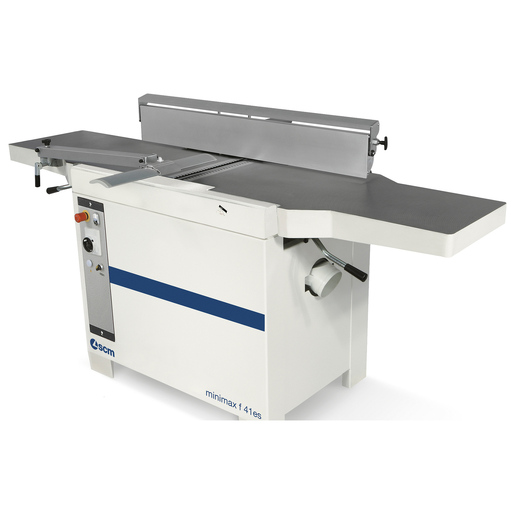 A$11,850.00
(Price does not include taxes, shipping and installation)
The high-performance minimax f 41es surfacing planer is ideal for demanding craftsmen and carpentries. This machine offers an impeccable finish with its 95mm diameter cutter block. The planer also includes a high rigid fence with central locking and an overturning fence that ensures optimum operator safety when machining thin work pieces. Spiralknives for exceptional results, reduced noise, and improved dust extraction. Each cutter has 4 rotating tips, extending the cutter block's lifespan.

Perfect finish
An optimal planing with minimal effort, thanks to the 95 mm diameter cutter block. 

High rigidity
High rigid fence with a smooth movement thanks to the central locking on round bar.

"Xylent" spiralknife cutter block with 3 series of knives
The 3 spiralknives give an exceptional finish. Reduced noise during machining provides a more comfortable working environment. It also improves the dust extraction due to the production of very small chips. Each cutter has 4 tips which can be rotated into the cutting position when worn. Therefore increasing the production life of the cutter block before knives require replacement.
The planer infeed roller has a helicoidal profile to guarantee firm and constant work piece feed, while the rubber-coated outfeed roller maintains the perfect post-processing finishing
The additional overturning fence ensures optimum operator safety when machining thin work pieces
TECHNICAL DATA

Working width
mm
410
Cutterblock diameter / no. of standard knives
mm
95
Max. stock removal
mm
8
Surfacing tables total length
mm
2200
Three-phase motors starting from
kW/Hz
5 (6) / 50 (60)
Exhaust hood diameter
mm
120
You might also be interested in...
Are you looking for different performance? Explore our range: