Skip to content
Skip to navigation menu
class s 630

Thicknessing planer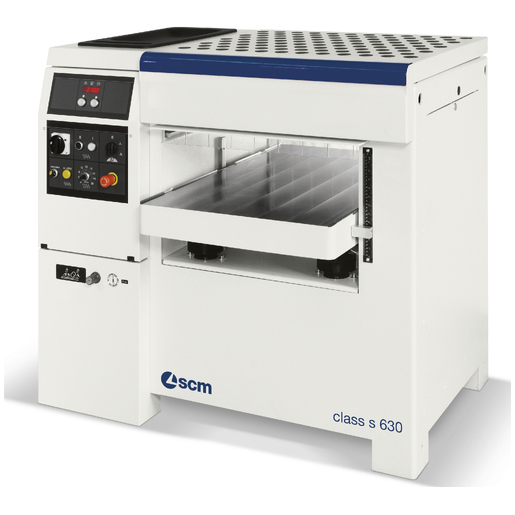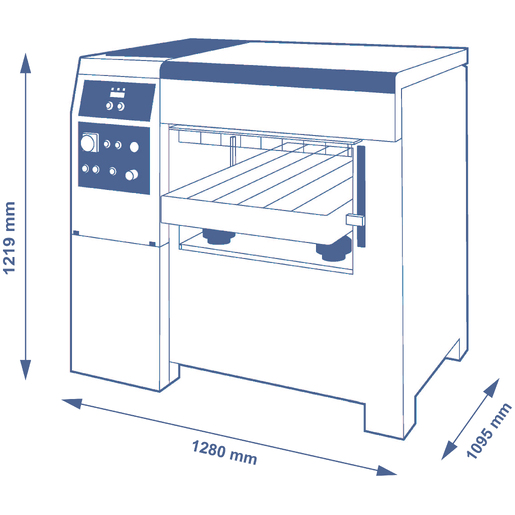 C$28,100.00
(Shipping and installation* included, taxes not included)
*Applicable only for models that require SCM installation
As a planer, for the class s 630, one of the most important features is the best finish and effectiveness of the feeding of any material and in any working condition and this is due to the adjustment of rollers that allows to change at any time the pressure applied on the work piece. It does not end here. The stopping of the work piece and the presence of notches on its surface are eliminated due to the movement system on all three rollers that allows their vertical displacement by rotation and the best linear feeding.
*Photos may include optional equipment. Please verify availability and compatibility under Product Details and Specs. 

The stopping of the work piece and the presence of notches on its surface are eliminated due to the movement system on connecting rods of all the three feeding rollers that allows their vertical displacement by rotation so to have the best linear feeding.

The 4 dust protected screws with a large diameter combined with the 2 side linear guides ensure worktable sturdiness and stability, eliminating the necessity of  locking it in position and guaranteeing high precision and reliability over time.

Quick and easy changeover of the rollers thanks to their interchangeable system that allows the operator to configure the machine drive function in case of special requirements such as minimum removals of fine woods.

The "Xylent" spiralknives cutter block gives an exceptional finish with reduced noise during machining thus to provide a more comfortable working environment.
Perfect surfaces and high feeding performance thanks to the planer unit with two rubber outfeed rollers
Powered worktable lifting with micrometric adjustment and digital readout for the maximum praticity and precision
The feed speed controlled by inverter from control panel is very practical and has a dedicated warning light to indicate too higher speeds so that to preserve the motor from failures
The "Xylent" cutter block also improves the dust extraction due to the production of very small chips
Each cutter of the "Xylent" block has 4 tips which can be rotated into the cutting position when worn, therefore increasing the knives production life before they require replacement
The sectioned steel infeed roller allows the simultaneous processing of different workpieces thicknesses giving great results even with minimum removal
The thicknessing table with idle rollers is very helpful with the feeding of moist and/or resinous wood. It is particularly suitable for heavy duty woodworking operations and with rough work-pieces
Top power! The machine has a 11kW (15hp) 60Hz motor with automatic star-delta starter
MACHINE CONFIGURATION
(Options and accessories included with this machine)
Thicknessing table with 2 idle rollers
First sectional feed roller in steel alternative to the std toothed roller
"Xylent" spiralknife cutterblock with 3 series of knife
Xylent maintenance kit
10 spare inserts kit (15x15x2,5) for Xylent spindle
Motor 9 kW Hz50 (11 kW Hz60)
TECHNICAL FEATURES
Working width
mm (in)
630 (24.81")
Worktable dimension
mm (in)
640 x 1000 (25.19" x 39.37")
Working height (min/max)
mm (in)
3,5/300 (0.12"/11.81")
Max. stock removal
mm (in)
8 (0.31")
Minimum working length
mm (in)
260 (10.25")
Minimum working width
mm (in)
10 (0.37")
Cutterblock speed
rpm
4500
Cuterblock diameter
mm (in)
120 (4.75")
Feed speed
mm (in)
4 ÷ 20 (0.19" ÷ 0.81")
Other technical features:
Three-phase motor
11kW (15hp) 60Hz
Exhaust outlets diameter
150 (5.87")
MINIMUM INSTALLATION REQUIREMENTS
Power absorption
A
49
Voltage - frequency
600V - 60Hz
You might also be interested in...
Are you looking for different performance? Explore our range: