Skip to content
Skip to navigation menu
morbidelli m100

CNC Machining Centers for routing and drilling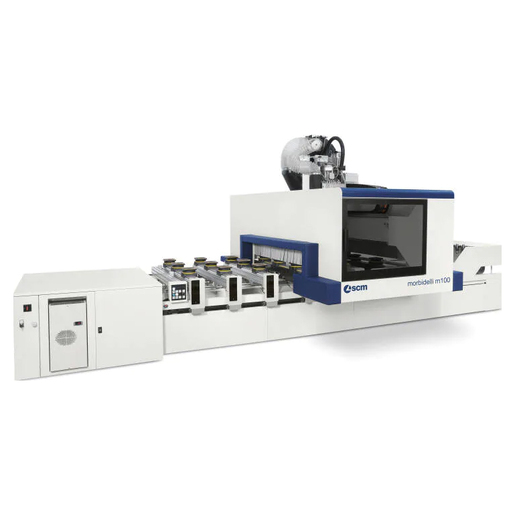 This highly modular machining center provides answers to all the problems associated with woodworking.
Just a few clicks to design and manufacture pieces of any shape, the machine is run by the Suite Maestro which has specific modules for every production cycle.
Unique on the market in having an unrivalled price-performance ratio, it can be configured according to the customer's needs and investment plan.

FREEDOM AT 360°:ALL FREEDOM
Optimizing the space within your factory thanks to the Pro-Space solution.
Maximum ergonomic load, the absence of perimetral protections allows the access to the work table from all sides of the machine.

SUPERIOR QUALITY: ALL TOP QUALITY
Unmatched finishing thanks to the JQX (Just Quality eXtreme)
5-axis direct-driven spindle head which ensures the total absence of vibrations even with huge material removal at high speed and with the high-performance drilling heads with RO.AX (Rotoaxial spindle technology) spindles and rotation speed up to 8000 rpm.

FASTER THAN ANYONE ELSE:ALL FASTER
60% time saving in drilling cycles thanks to the rapid machining/cycle time and devices that reduce the idle times. No downtimes for set-up operations with the TV FLEXMATIC work table and less than 15" for the tool change with the FAST14 tool changer.

ENDLESS MACHINING TYPES: ALL FLEXIBLE
The machine can cope with every type of wood elements: panels, single elements, kitchen doors, windows, the configured solution for all your needs and your investment plan.
The unit can accommodate up to four machining units, including a device for inserting dowels using pearl glue.
TECHNICAL FEATURES
Working areas
X-Y axes dimensions
mm
3110x1320
3710x1320
5510x1320
3110x1620
3710x1620
5510x1620
Axes
Vectorial speed X-Y axes
m/min
56 (ProSpace)
78 (ProSpeed)
Z axis panel passage
mm
180
Routing unit
Motor power (max.)
kW (hp)
15 (20,5)
Rotation speed (max.)
rpm
24000
Available tools on tool changer (max.)
places
44
Drilling unit
Independent vertical spindles (max.)
n.
21
Independent horizontal spindles (max.)
n.
12
Rotation speed (max.)
rpm
8000
Integrated blade in X, diameter
mm
125
0-90° blade unit
Motor power (max.)
kW (hp)
2,2 (3)
Rotation speed (max.)
rpm
6000
Auxiliary routing unit
Motor power (max.)
kW (hp)
4,5 (6)
Rotation speed (max.)
rpm
18000
You might also be interested in...
Are you looking for different performance? Explore our range: