Skip to content
Skip to navigation menu
action p

Electro mechanical cabinet clamp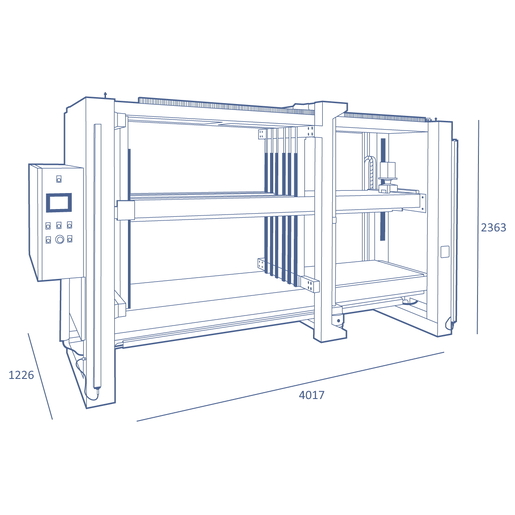 $62,950.00
(Price does not include taxes, shipping and installation)
The electro mechanical cabinet clamp action p with manual loading and unloading is the solution for the precise assembly of cabinets. With the touch screen monitor, it is possible to run automatic furniture pressing programs making it easy to use the clamp. The comb system guarantees a better quality with an effective pressing on the entire surface.
This electro mechanical cabinet clamp is suitable for all cabinet manufacturers, with medium productive volumes (up to 50 cabinets/shift).

5.7" touch screen monitor on electric panel for several automatic cabinet pressing programs

Efficient cabinet squaring by means of an integrated rack and pinion system driven by brushless motor

Horizontal and vertical pressure elements with single comb bars
COMPLETELY AUTOMATIC CYCLE with operator interface (HMI), possibility to program pressures, cycle times and sequence of pressures 
Machine structure with welded monoblock frame that ensures better structural rigidity and facilitates the usual maintenance operations. Gear transmission, to optimize movement precision and reduce machine noise
Upper and side mobile pressure element (Z and X direction): Controlled by Brushless motor. Precise parallel positioning using rack and pinion guides
Workpiece alignment: the operator positions the cabinet by aligning it with the side stop on the fixed machine table. 
TECHNICAL DATA

Maximum side thrust

Kg / Lb

1200 / 2,650

Maximum vertical thrust

Kg / Lb

1500 / 3,300

Side table positioning speed

mm/sec (in/sec)

109 (4.3)

Top table positioning speed

mm/sec (in/sec)

96 (3.7)

Worktable height

mm /in

620 / 24.4"

Minimum workpiece length

mm /in

250 / 10"

Maximum workpiece length

mm /in

2500 / 98.4"

Minimum workpiece height

mm /in

250 / 10"

Maximum workpiece height

mm /in

1200 / 47"

Minimum depth

mm /in

250 / 10"

Maximum depth

mm /in

800 /31.5"

MINIMUM INSTALLATION REQUIREMENTS

Installed motor power

kW

9

Usa- Canada Version Voltage /Frequency

230V/60Hz