Skip to content
Skip to navigation menu
dmc sd 70

Automatic sanding and calibrating machine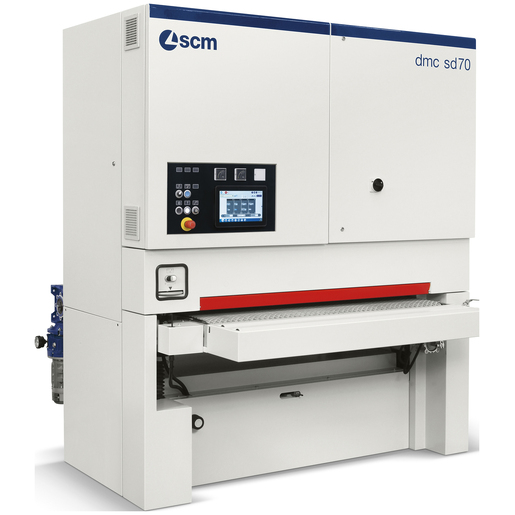 Starting from $63,380.00
(Price does not include taxes, shipping and installation)
Its high level of versatility makes dmc sd 70 perfect for different types of machining.  In the furniture sector (with veneered and painted panels) it excels in the provision of optimum level finishing thanks to the 2.620 mm sanding belt length and the electronic sectional pad.

Long belts: 2.620 mm length for greater finishing and productivity
Better cooling of the abrasive grit due to the greater development of the belts that reduces the adherence of processed dust.
An extended belt length lasts longer, requires fewer replacements and consequently less downtime.

Belt oscillation controlled by an electronic photocell
This precision control system maximum uniformity in belt oscillation: this reduces the risk of belt breakage and improves finishing quality.
Automatic feed belt tensioning and centering: for an easy operation  
An electro-pneumatic system keeps the feed belt on track, perfectly centred and tensioned at all times. The system is automatic and no operator intervention is required.  
TECHNICAL DATA
Working width
mm
1.350
Min. - max. working thickness (with mobile table)
mm
4 - 170
Min. - max. working thickness (with fixed table)
mm
4 - 200
Sanding belts width
mm
1.370
Sanding belts length
mm
2.620
Standard main motor power
kW (Hp)
11 (15)
Motor power 1st group
kW (Hp)
11 (15)
Motor power 2nd group
kW (Hp)
11 (15)
Feed belt speed
m/min
4,5/9
You might also be interested in...
Are you looking for different performance? Explore our range: