Skip to content
Skip to navigation menu
olimpic k 360

Single-sided automatic edge bander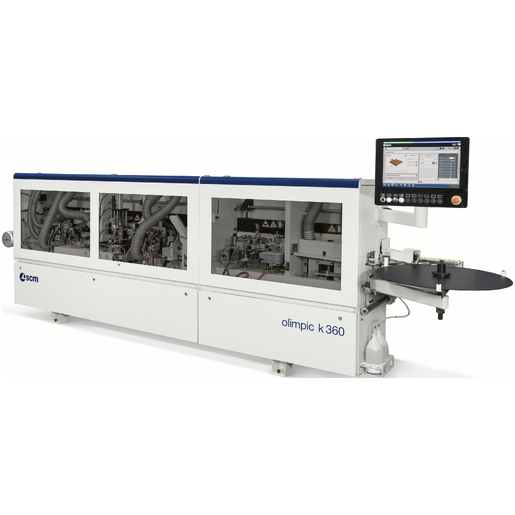 Starting from $44,000.00
(Price does not include taxes, shipping and installation)
Versatility and high machining quality with the SCM olimpic k 360, the machine with the aim to be the new reference point in the market for entry level edge banders and complete with a rounding unit.

Compact and easy-to-use due to its advanced technological solutions designed to ensure optimal panel finishing. It is simply the perfect edge bander for companies who require continuous and high quality edge banding of panels even though they may be different from one to another.

The use of ""multiedge"" machining heads with electronic axes allows the machine to be set up automatically to machine panels with 2 different radii, solid wood and thin edges. 

End cutting unit: cut and "radius" in a single operation.
Automatic and error free cutting of thick edges due to the particular system with two blades that allows the straight cutting of solid wood edges and the chamfering of the thin edges.

Rounding unit: edge angles finishing on straight and shaped panels.
Rounding of front and rear edge angle on straight, chamfered and post-formed panels. The operation is automatically carried out by the unit and grants an optimal finishing, without necessity of further machining.

StarTouch control: just a ""touch"" to use the machine.
Error free machining with the touch-screen display with its customised graphics that allows an intuitive and easy selection of the main machine functions.

Perfect results on all surfaces. The controlled axes allow all intermediate positioning of the trimming and edge scraping groups, ensuring optimal edge banding even in the case of surfaces with different degrees of roughness or panels covered with protective film. These units allow the machining of 2 different radii, endless thin edges and solid wood (comp. K 360 HP T-ER1).
TECHNICAL DATA
Edge thickness
mm
0,4 - 6
Panel thickness
mm
8 - 60
Feed speed
m/min
11
Compressed air
bar
6
You might also be interested in...