Skip to content
Skip to navigation menu
minimax si x

Circular saw with ±46° double tilting blade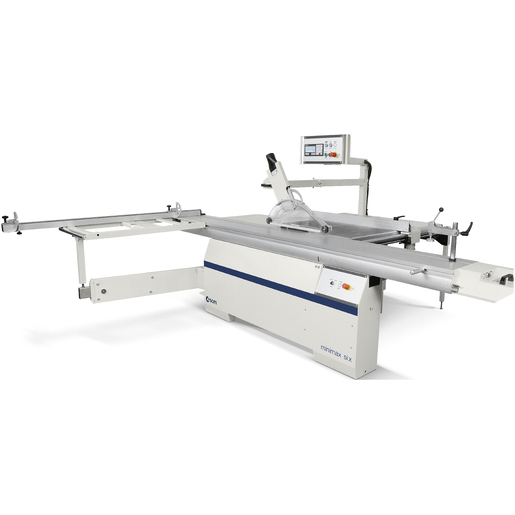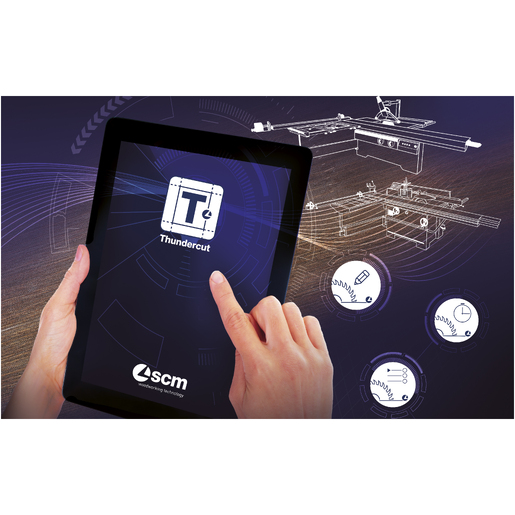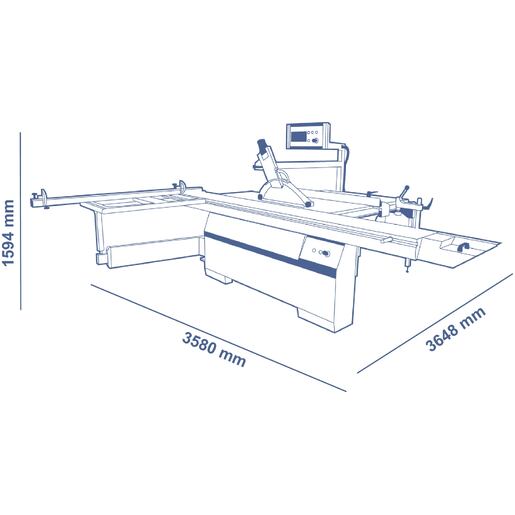 $23,889.47
5% online discount
(Price does not include taxes, shipping and installation)
Finally available at everybody's reach. With powered and programmed sawblade movement available as standard.
It allows simultaneous use of a 400mm saw blade and 160mm scoring blade both for 90° cutting and ±46° tilted cutting, guaranteeing the maximum cutting height on veneered panels and solid wood.

Double tilting at everybody's reach. New saw unit with a stiff cast-iron structure which can accommodate a blade of 400 mm diameter with scoring blade mounted. It ensure a perfect and easy cutting of veneer panels and thick solid wood material with very high thickness both at 90° and tilted cuts at ±46

Unrivalled cutting finishing. Optimal support also to larger pieces, with the new sliding table 360 mm wide. Exceptional precision and smoothness: to secure the guides it is not used glue, since the thickness could affect sliding. They are secured with a procedure of aluminum riveting.

Panel loading is easy on the large squaring frame with an idle roller at the end. The telescopic squaring fence with the inclined metric scale and two reversible stops can be used to square panels measuring 3200 x 3200 mm and for tilted cuts at up to 45° on both sides of the frame

READY: the practical advantage for automatic control of the main positions. The programming of the work becomes simple and effective with the electronic control with a 4" LCD colour screen.

SCM Thundercut App for mobile devices: optimizer/sequencer even for not skilled workers
The lifting of the blade unit is done by 2 ground cylindric bars, for the maximum rigidity and smoothness
The saw blade uses 100% of the motor power, thanks to the scoring blade with an independent motor
The scoring blade is adjustable from the outside without tools and allows fast and accurate positioning with no play
The sliding table ensures a top quality precision with a smooth and silent action, a self-cleaning dustproof system, and a long lasting accuracy with no adjustments required
The possibility to start or stop the blades motors from the pushbuttons located at the ends of the carriage considerably helps when machining large dimensioned panels
The sliding table is provided with an additional table for the support of panels with large dimensions
The angular cutting device with flip-over stops allows to rapidly perform mitre cuts without moving the squaring fence and it is very useful for small work pieces
The round cross-section sliding bar for the parallel fence with micrometric adjustments ensures a smooth, fast and especially accurate positioning of the fence
The telescopic system for the two positions of the overhead blade protection is very fast and comfortable whenever switching from 90° cuts to tilted ±46° cuts is needed, resulting in a totally safe machining
| | | |
| --- | --- | --- |
| MAIN TECHNICAL FEATURES | | |
| blades tilting | [mm] | -46° ÷ +46° |
| max. saw blade diameter with scoring blade installed | [mm] | 400 (15.75") |
| max saw blade projection from table at 90°/+45°/-45° | [mm] | 136/97/60 (5.5"/3.81") |
| scoring blade diameter | [mm] | 160 (4.75") |
| squaring stroke | [mm] | 3200 (125.94") |
| cutting width on parallel fence | [mm] | 1270 (49.94") |
| OTHER TECHNICAL FEATURES | | |
| three-phase motor | | 8kW (11hp) 60Hz |
| exhaust outlets diameter | [mm] | 120 (4.75") |
| INSTALLATION INFO | | |
| section of electrical cable | [mm2] | 10 |
| power absorption | [A] | 31 |
| voltage - frequency | | 230V - 60Hz |